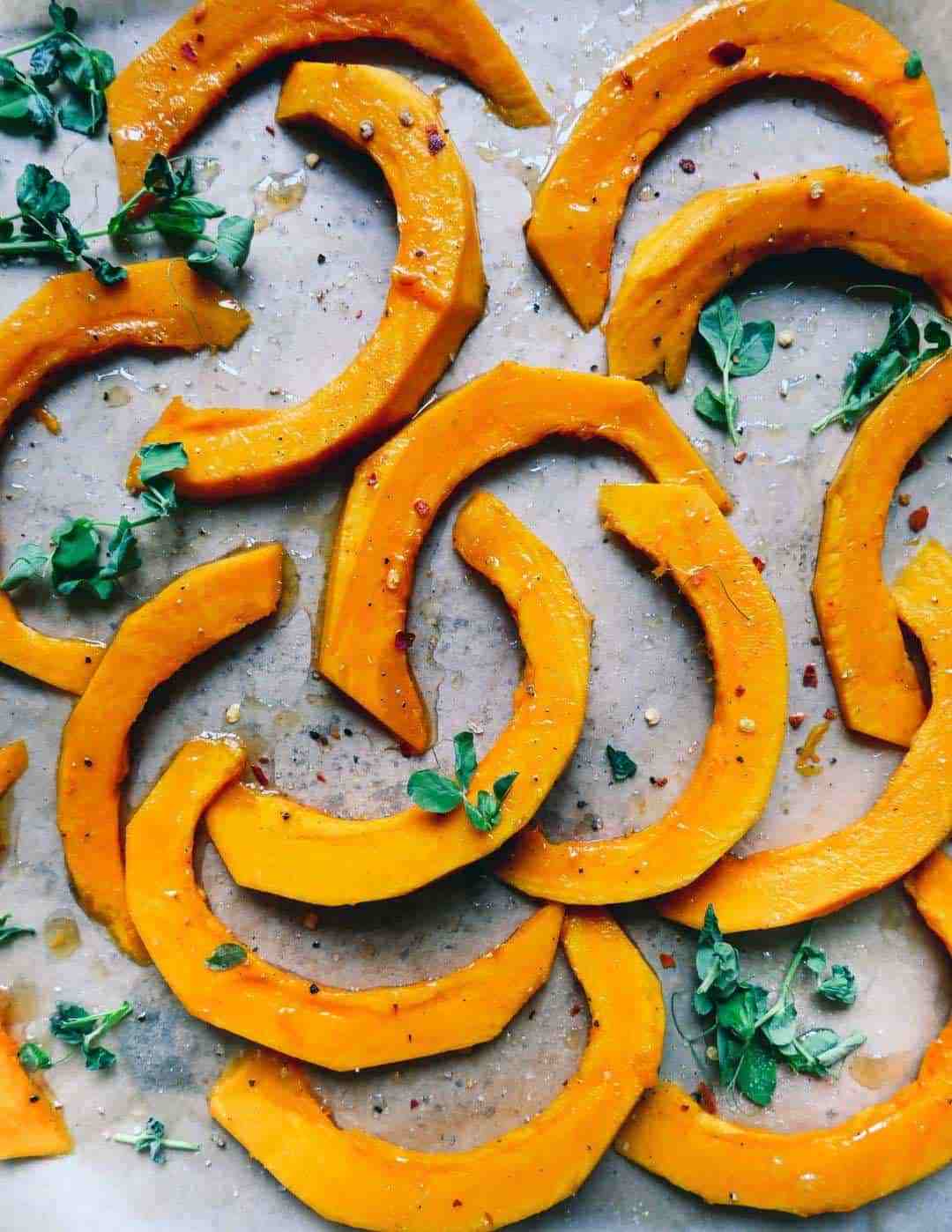 The sweetest, gooey oven baked pumpkin fries.
Pumpkin is a classic ingredient in the autumn and with a very good reason. Pumpkin, either savory or sweet, is very low in calories, very nutritious and then easy to make.
You can find the hokkaido pumpkin almost in every shop these months, and if you try it out it will become a fall staple in your home.
I'm just in love with the beautiful orange color. I use to buy a lot of pumpkin in the autumn, make them into soups, dip or hummus. It's easy to store then for later in the year, just be sure to store them unused in the freezer. This time I use my pumpkin to make this pumpkin fries recipe. But you can also make it for soup, smoothies, pumpkin pie or in salads with pomegranates, rucola salad and feta.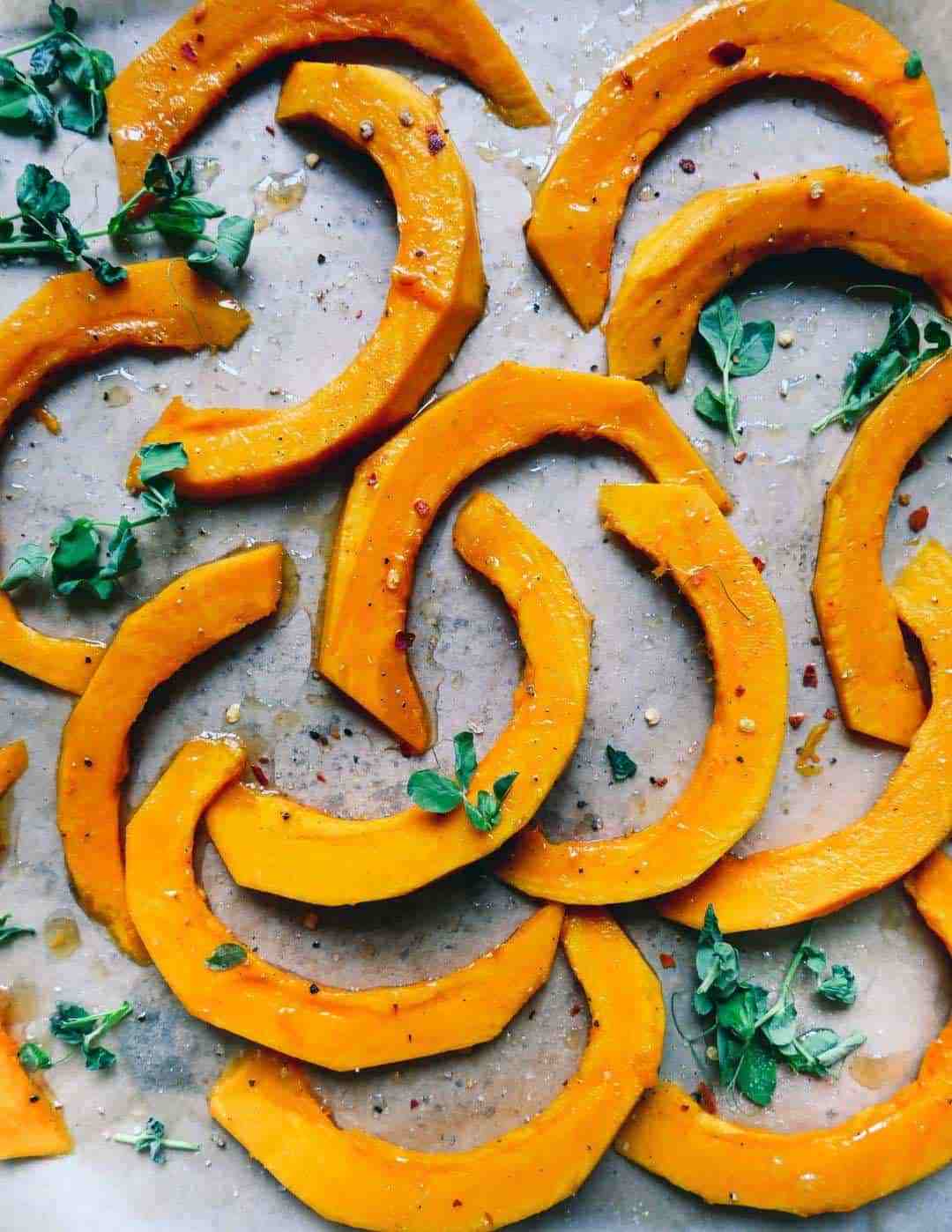 Print Recipe
Oven baked pumpkin fries
Recipe for pumpkin fries. Pumpkin is perfect for the autumn kitchen. I've made these sweet pumpkin fries with chili. Go find the full recipe underneath.
Ingredients
1/2 hokkaido pumpkin

A handful of watercress (can be omitted)

1 teaspoon Chili

2 tablespoon Oil

2 tablespoon Maple syrup

Salt and pepper
Instructions
1
Cut out the pumpkin in fries, do not make them too big. Remove the seeds and save them for crispy toppings or snacks (read more underneath). I also removed the skin, but you can easily eat that too if you like.
2
Add the slices on a baking sheet with baking paper. Drizzle with salt, pepper, chili and maple syrup - mix it all together. (you can omit the syrup if you don't like it too sweet)
3
Wash the watercress and add a little handful on the baking sheet.
4
Bake in the oven in 15 min. 200c degrees hot air. Bake until golden and soft.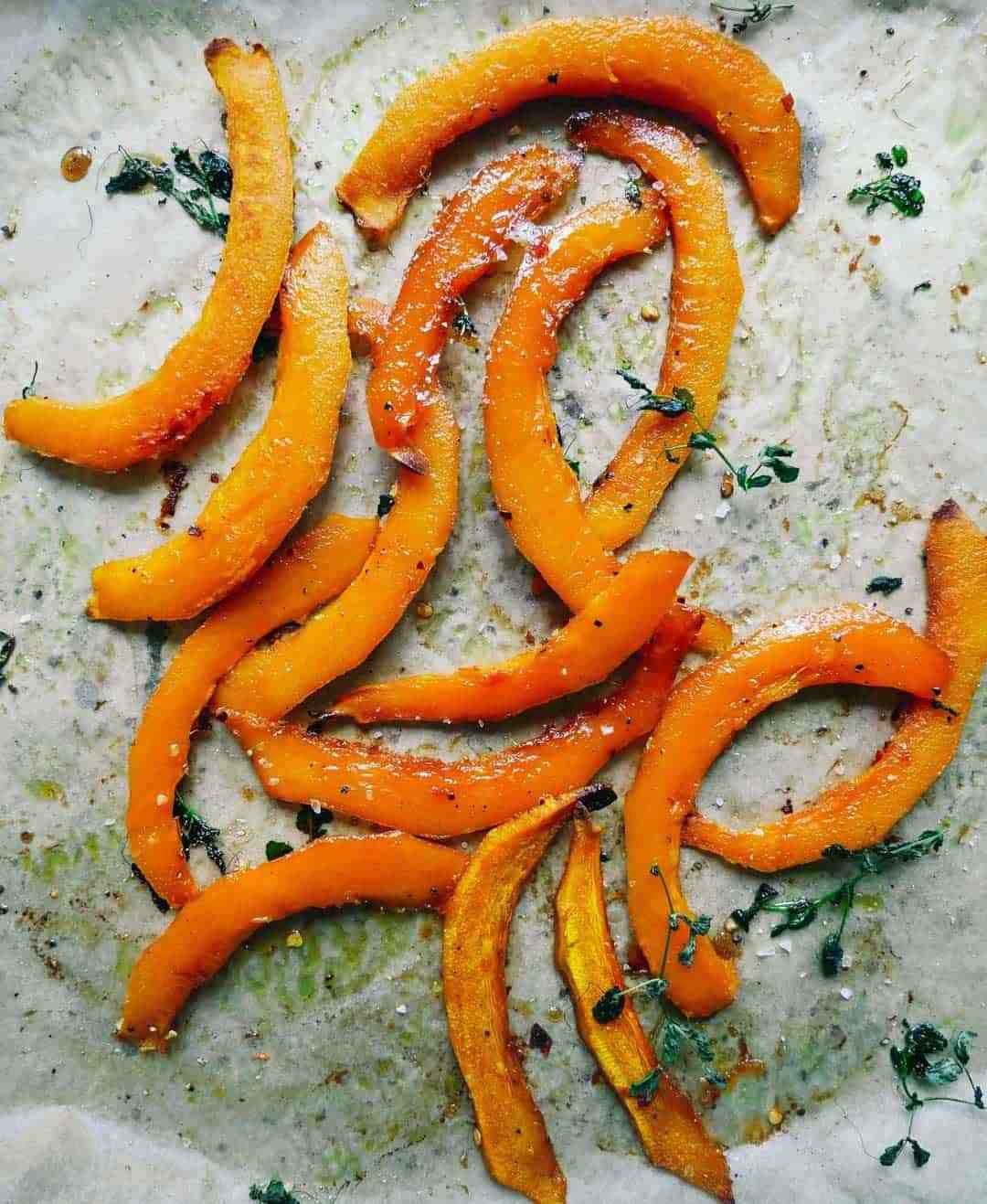 Ways to use your pumpkin:
As I said colored and bursting with natural sweetness, pumpkins are one of autumn's most versatile vegetables. The soft hokkaido pumpkin is perfect for roasting and mashing and tastes great both sweet or savoury.
There is plenty of ways to use your pumpkin: Baked and filled, boiled, baked in the oven, smashed for puree or using the super seeds. But you need to add some tastings to the pumpkin no matter which way you're cooking it. Good spices for that could be: thyme, garlic, chili, sage or rosemary. I added some sweetness to my fries because I like that caramelised flavour, but can easily be omitted if you don't like it sweet. And don't forget the best part of Halloween – hollowing out your pumpkin and carving scary faces.
How to use the pumpkin seeds:
Pumpkin seeds are packed with vitamins and minerals, and they're a great source of fibre. Plus, there's nothing better than the feeling using up a product most people would throw away. Perfect for a healthy snack or as crispy topping on soups or yoghurt. You can make them in the oven or on the pan. Taste the clean seeds with salt, paprika, chili, maple syrup or oil for a crispy taste. Give them 1/2 hour in a hot oven at 170c degrees, and turn around in every 20. minute.