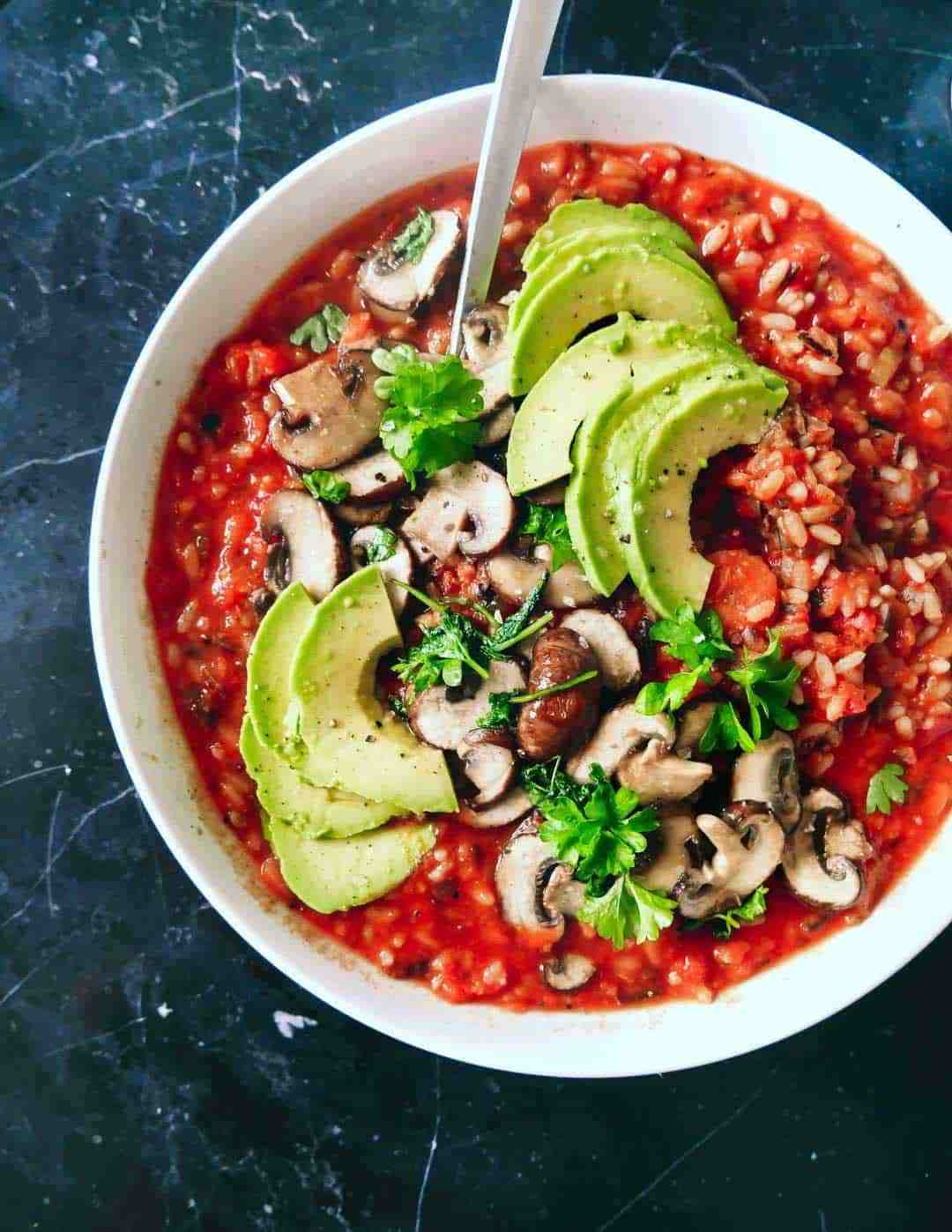 Easy vegetarian stew with rice, sweet potato and creamy mushrooms.
Vegetarian stew – This rice and sweet potato stew are such a winner. I first made it about a month ago and have been thinking about it ever since. Mmmh.
So I thought I needed to make it again soon, so I could share it with all of you. It's so warming and hearty, perfect for chilly autumn evenings. And another good thing about simmer dishes that your house are just bursting with flavour. It's close to be a food week wonder too. You can make a big batch one night to last you the next few days or weeks. Just keep a few portions in the fridge or freezer.
This recipe is full of warming spices, cumin, paprika and garlic – onions, tomatoes, and vegetables which simmer in a delicious rice infused tomato sauce with rice.
I love serving this with toppings like avocado, and these creamy mushrooms. It gives such a delicious touch for the final stew.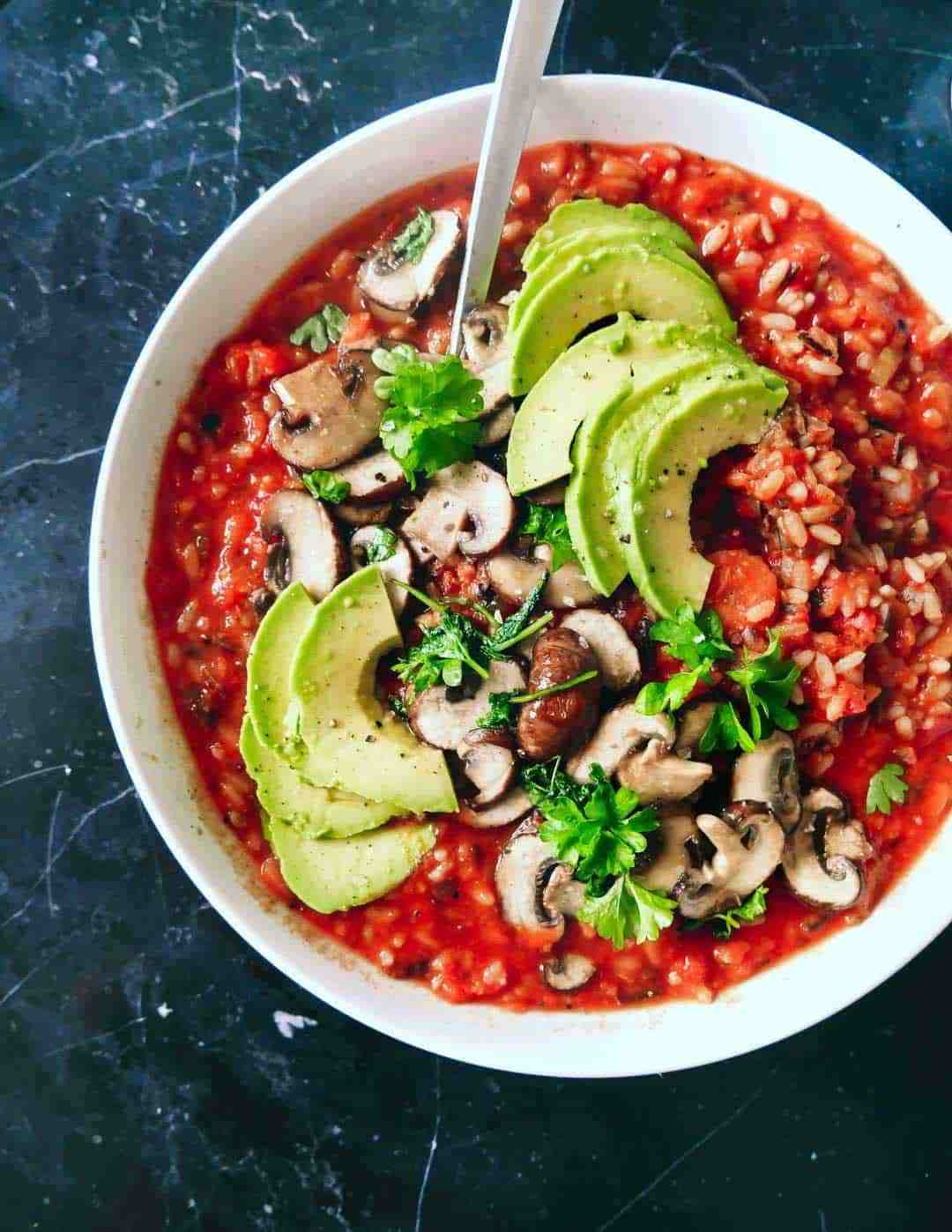 Print Recipe
Vegetarian stew with rice, sweet potato and creamy mushrooms
Easy vegetarian stew served with rice, sweet potato and fried creamy mushrooms. Served with fresh parsley and avocado. Get vegetarian inspiration right here.
Ingredients
First in the oven:

3 x small sweet potatoes (or one big), chopped

3-4 carrots, chopped

2 tablespoon oil

1 teaspoon paprika

Drizzle with salt and pepper

The stew:

2 tablespoon oil

2 x gloves of garlic

1 onion

1 can of tomatoes

Juice from 1/2 lemon or lime

1 teaspoon cumin

1 teaspoon paprika

1 cup of water

Rice after choice - around 1 cup per person

Creamy mushrooms:

1 tablespoon oil

4 x medium brown mushrooms

A handful of parsley

Salt and pepper

For serving: Avocado slices
Instructions
1
In the oven: Pre-heat the oven at 200c. Finely chop the sweet potato and carrots in smaller pieces. Add on a baking tray with baking paper. Mix the vegetables with oil, salt, pepper and paprika. Bake in 12-15 min.
2
The Stew: Place the pressed garlic and onion into a large saucepan along with olive oil. Allow this to heat until it's bubbling, then pour in the tins of tomatoes, lemon/lime juice, cumin and paprika.
3
When the vegetables are finish in the oven, then stir in the chopped carrots and sweet potatoes (the vegetables may feel a little under cooked and not too soft). Bring this mix to the boil then turn it down to a simmer at low/medium heat in 1/2 - 1 hour. Add 1 cup of water if needed.
4
Cook the rice while the stew is cooking.
5
When the rice are finish, add in the stew, mix it all together and turn down the heat while finally frying the mushrooms.
6
Creamy mushrooms: Chop/slice the mushrooms. Add on a pan with oil, salt and pepper. Fry on medium heat and add some finely chopped parsley.
7
Serve the rice stew in big bowls, add the creamy mushrooms on top. Decorate with a little parsley and avocado slices. Drizzle with salt and pepper.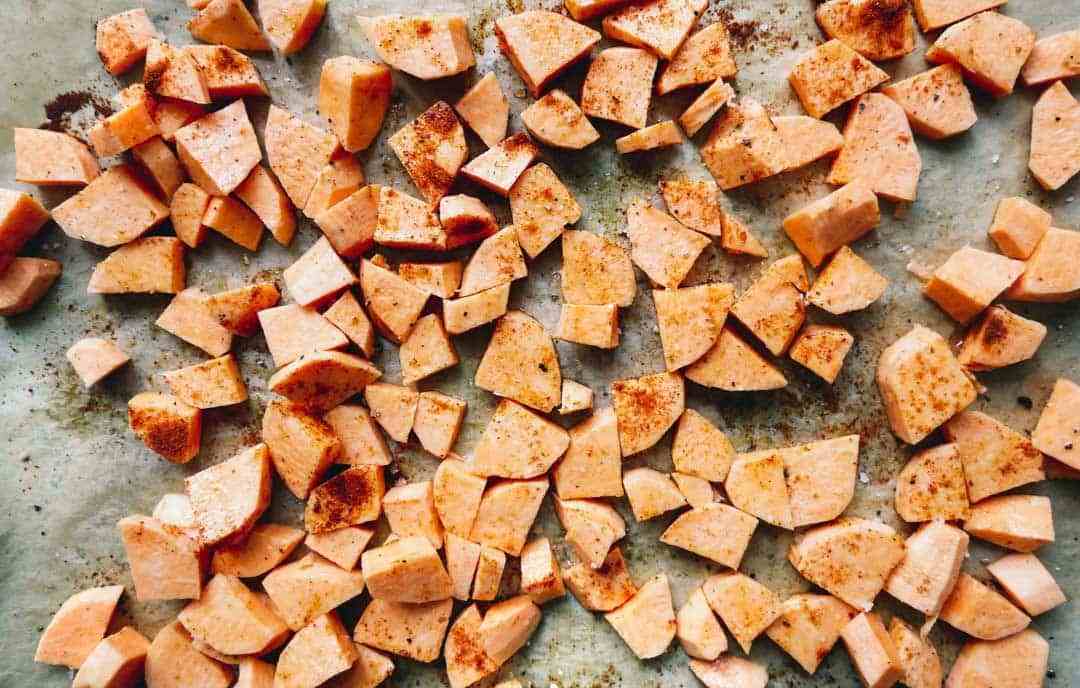 ~ I hope you could use this recipe. Let me know in a comment below, if you have any questions making it.