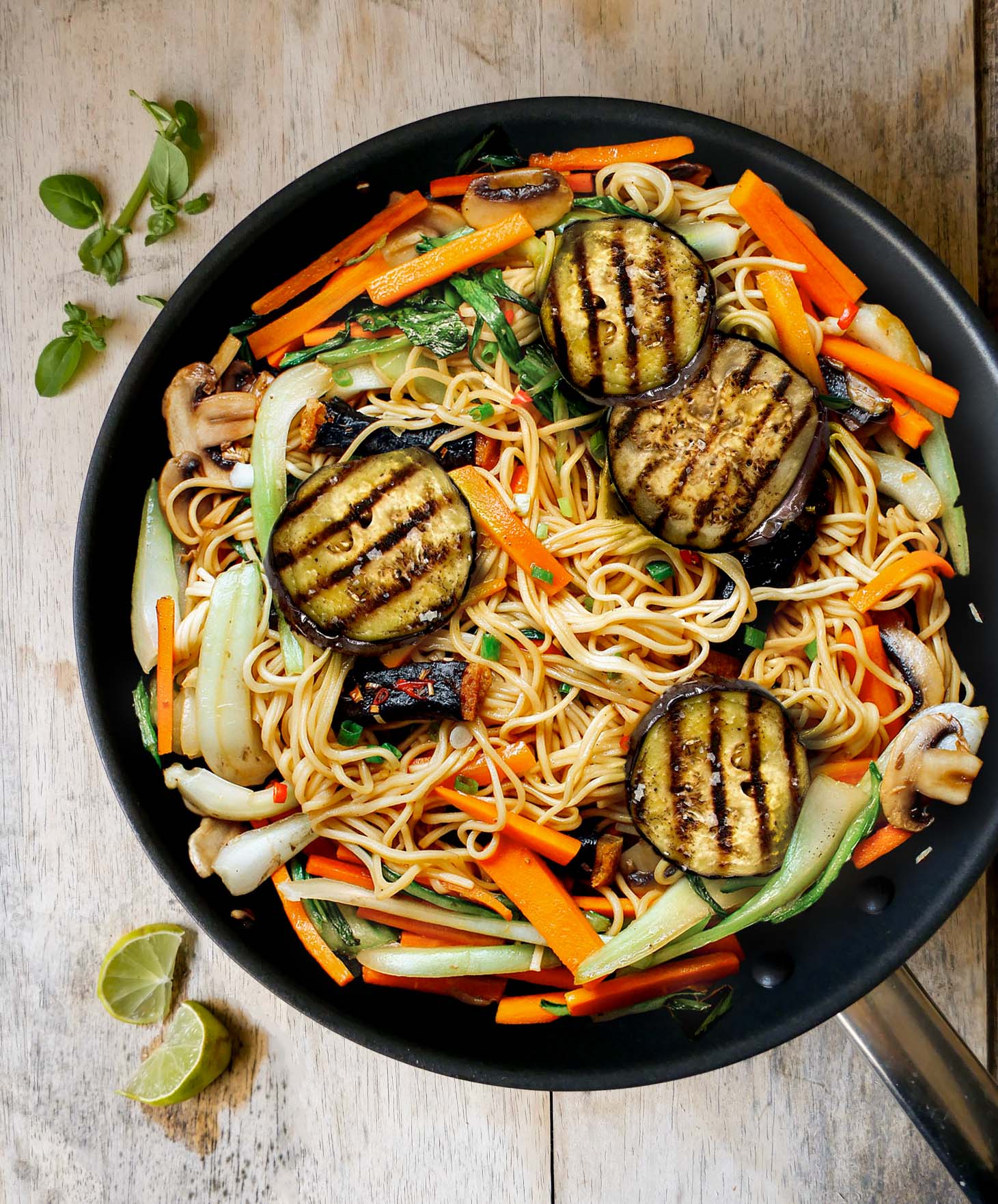 Asian inspired Stir-fried Noodles with vegetables and grilled eggplant. Such a simple recipe perfect for weekdays – or if you have some leftover vegetables you don't know what to cook with. Simple, healthy and ready in less than 30 minutes.
One day after editing food pictures all day I was hungry like a wolf. Fortunately I had one pack of some vegan wok noodles at home (that I've had in a looong time) and a nice selection of vegetables in the fridge. So dinner was served pretty easily.
I decided to try out stir-fried noodles. Haven't made stir-fry noodles many times before, so I was SO surprised how easy they were. You really just need to throw the noodles into some boiling water (according to package instructions), remove the heat and let the noodles soak for a little. Then chop and cook some veggies – just use the leftovers you already have. (Making wok you don't need to use specific vegetables, just use what you have). Then drain the noodles, throw it all together, drizzle with soy sauce and a bit of sweet chili sauce – and say hello wok heaven.
It tasted delicious and looked so comfy and satisfying that I wanted to share this one. The perfect meal for busy weekdays or if you're stocked with vegetables you don't know what to cook with.
» Try also: Simple vegan risotto with mushrooms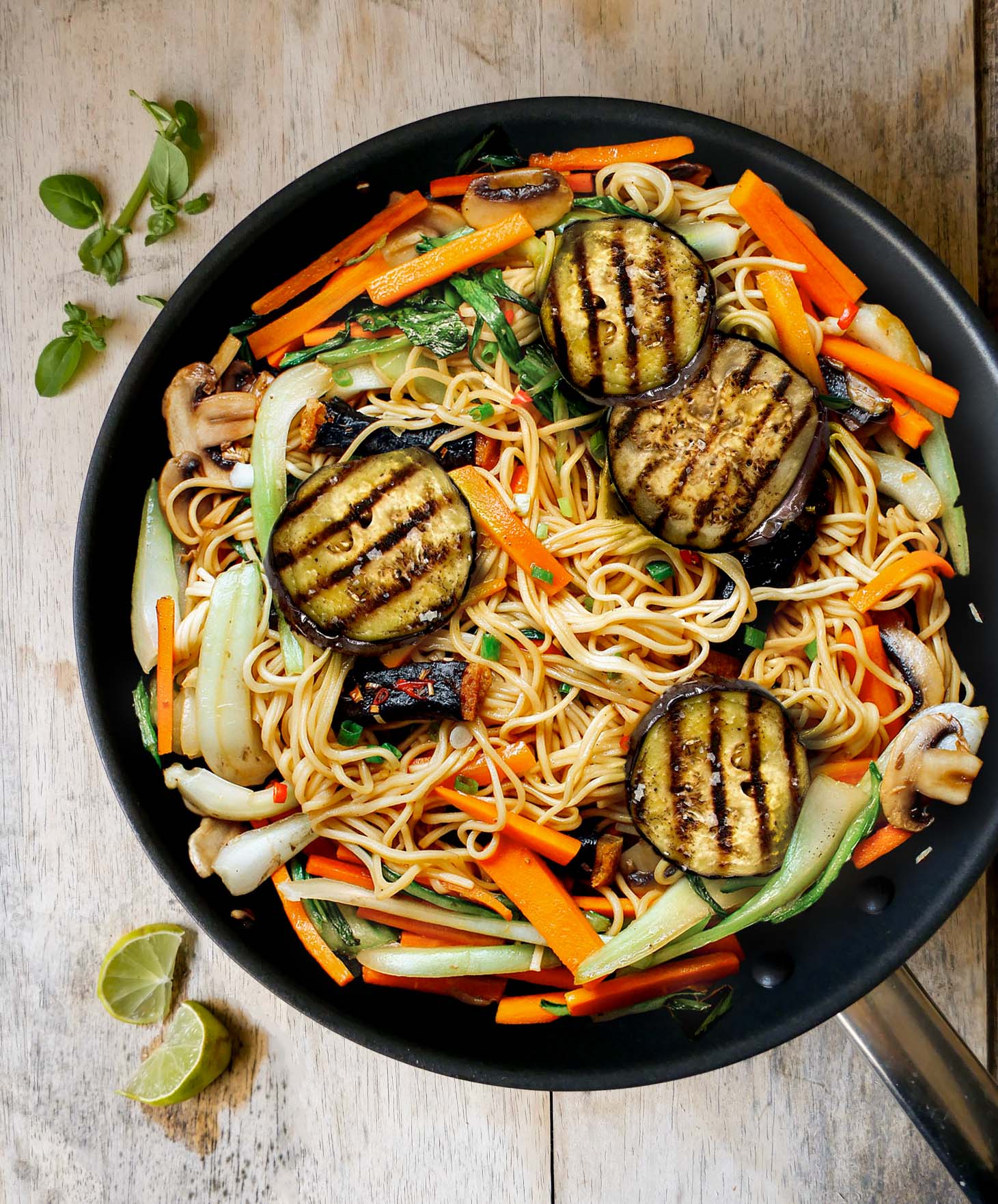 Print Recipe
Stir-fried Noodles with Vegetables:
Asian inspired Stir-fried Noodles with vegetables and grilled eggplant. Easy recipe perfect for weekdays. Healthy too and ready in only 30 mins.
Ingredients
200g. Noodles (vegan noodles)

1 clove of Garlic

2-3 x Carrots

3 x Spring onions

1/2 x Fennel

3-4 x Mushrooms, small

Eggplant slices

3 tablespoon soy sauce

1-2 tablespoon sweet chili sauce of choice
Instructions
1
Start by cooking the vegan noodles a few minutes according to pack instructions.
2
Wash and chop carrots, fennel, spring onions and mushrooms in slices and press the garlic. Heat some oil in a wok or large frying pan. Then stir-fry the garlic with carrots, spring onions, fennel and mushrooms over a high heat for 2-3 minutes
3
Drain the noodles thoroughly, add to the pan, then stir-fry along with the vegetables for 2 minutes. Mix together the soy sauce and sweet chili sauce. Stir into the pan and cook for 1-2 mins.
4
Chop some slices of eggplant and cook in a few minutes, both sides on a warm grill pan. Divide between individual plates or bowls and serve immediately the stir-fried noodles with the grilled eggplant slices on top. Drizzle with salt and pepper.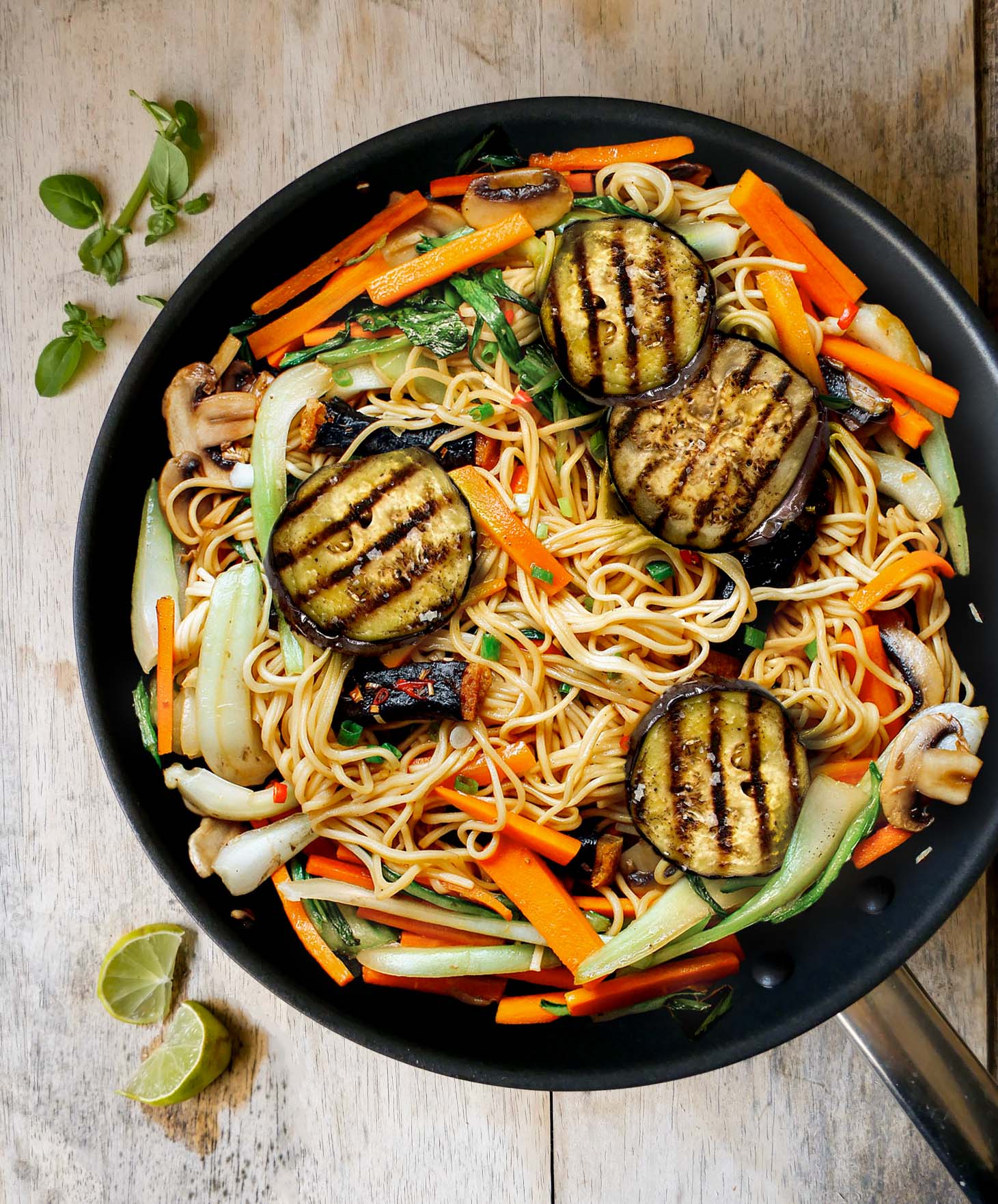 Which noodles to stir fry?
I just wrote that this was one of my first times making stir fried noodles. So I'm not going to be an expert here. But I've done some research and actually any noodle type can be a stir-fried. But if you're making stir-fry noodles for the first time, maybe you should stick with the standard "vegan noodles" (looks a lot like egg-noodles and you can get them in the most supermarkets). Or preferably buy fresh noodles, if you can find them. They are easy to work with and gives a great stir-fry result. Once you get more comfortable with the noodles, maybe try out rice noodles, soba noodles, udon noodles, or even regular Italian spaghetti noodles.
In the past if I wanted to make a "noodle look-alike" recipe I actually used spaghetti. Of course it's not the same at all! But, if you don't have any noodles in your kitchen, spaghettis can make the job quite well. Cook them as you always do, drain thoroughly, add to the pan and then stir-fry along with vegetables and some soy/chili sauce for 3-4 minutes. I hope you will try out this recipe!
Did you like the Stir-Fried Noodles? Rate the recipe here ↓