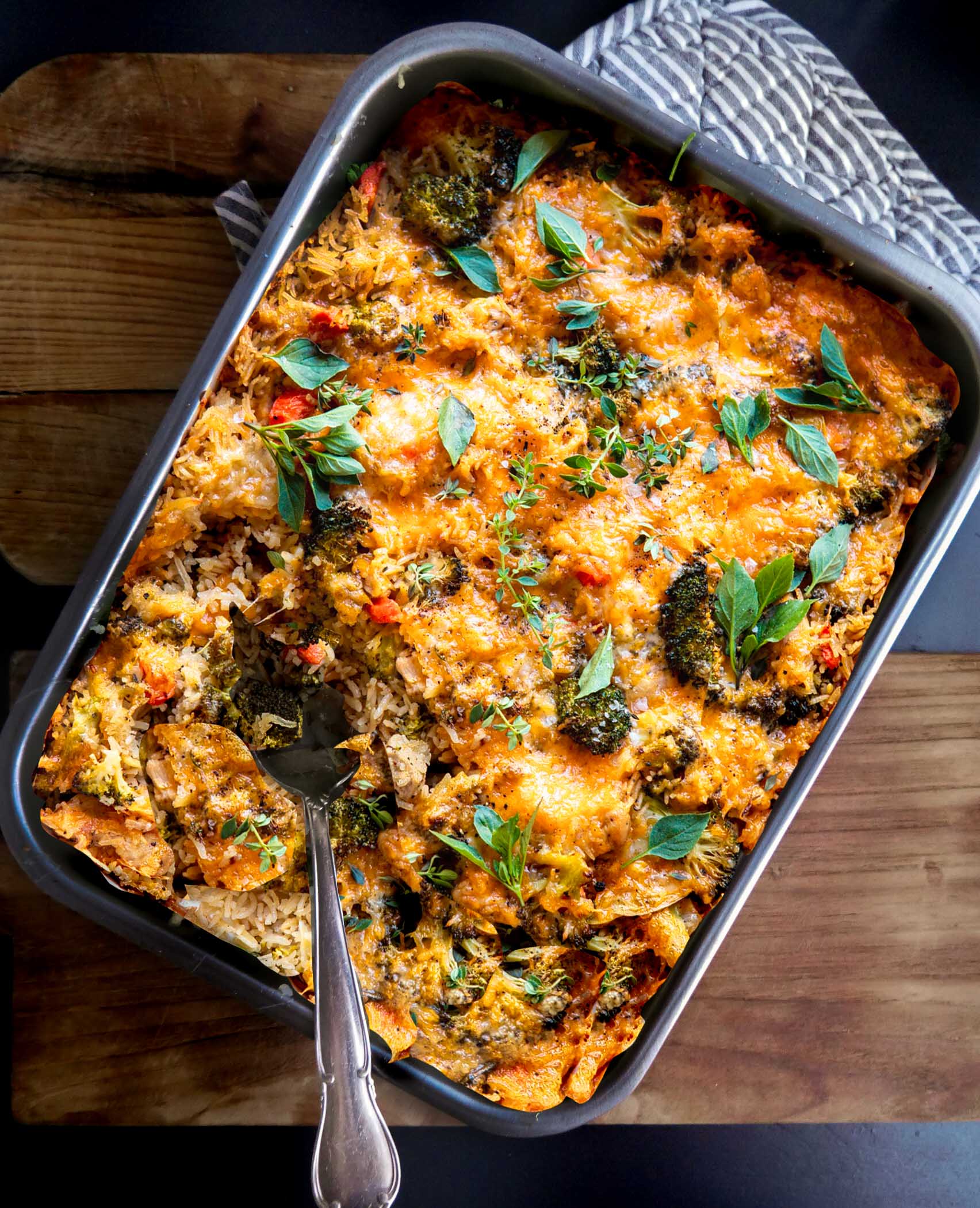 First time making this easy and simple recipe: Oven baked rice with seasonal vegetables. I'm so surprised how this turned out! It's almost like a broccoli "cheddar" taste made with rice and placed in a casserole. Covered with some oil, salt, pepper and fresh herbs.
In all seriousness, this really is a perfect recipe for this time of year. And you can make it any time of the year with seasonal ingredients. Some are coming back to school, everyone is slowly coming back from late summer vacations, and life is getting busy again.
Sure, the sun is still out but I'm feeling the autumn shift slowly creeping it's way in.
The best part of this recipe, It's made entirely in one pot and in under one hour! For me it took around 40 minutes. And you don't need so much active time in the kitchen. Cook the rice, grab some vegetables, add plenty of favorite herbs, and all the broccoli you can snag. Cook everything together, add sharp cheese (or cheddar cheese or vegan cheese). Finish off in the oven to melt the cheese in 20 minutes. Simple and delicious. The perfect weeknight tray.
» Try also: 10 x satiated vegan recipes for weeknights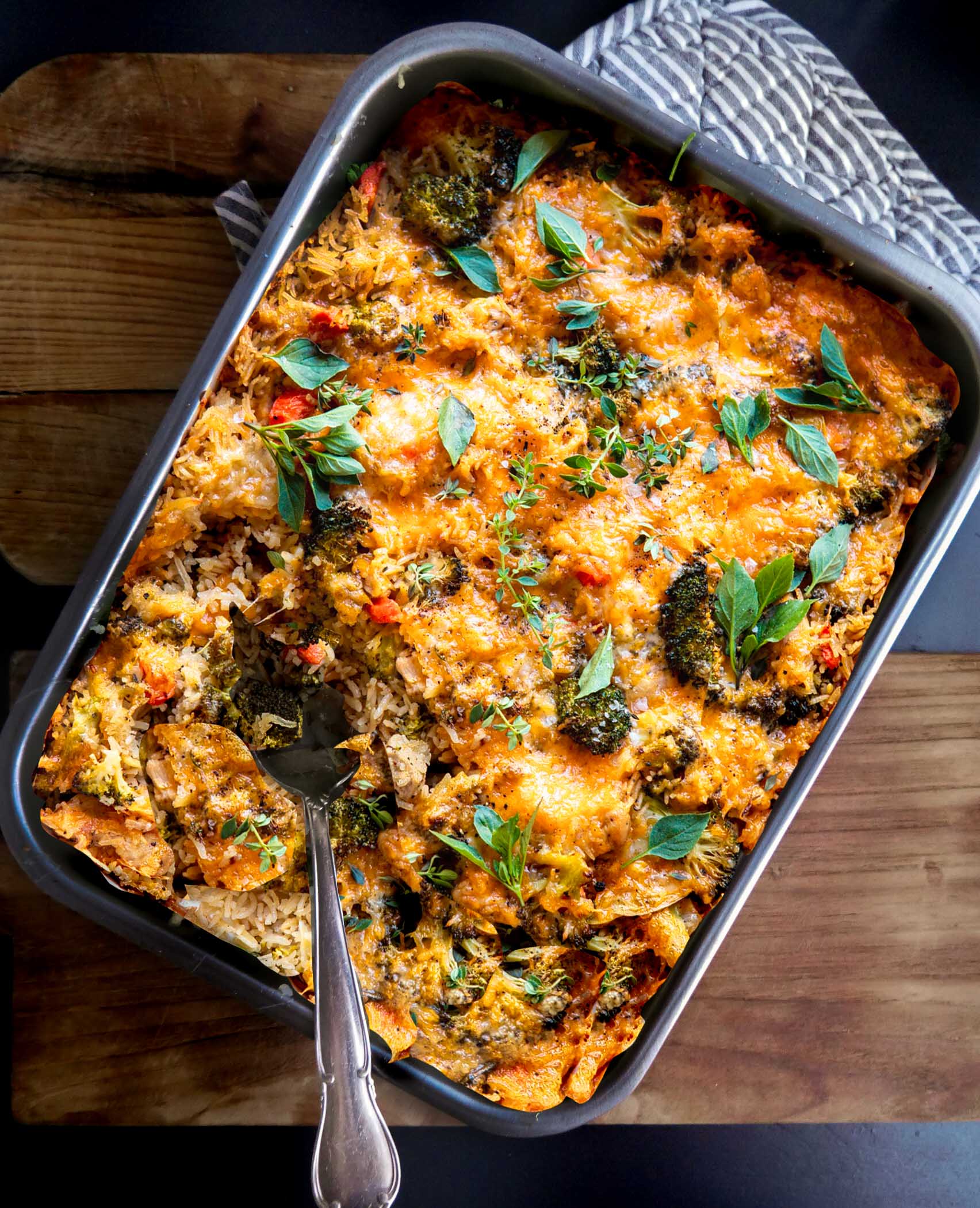 Print Recipe
Oven baked rice with vegetables:
Oven baked rice and vegetables is the perfect, simple and tasty dinner recipe during the week. Made with broccoli, carrots, cheese and rice.
Ingredients
1,5 cup of Rice (not cooked)

150g. Broccoli

1 small Onion

1 Spring Onion

100g. Carrots, around 2-3 carrots

1 cup of Vegetable Stock

Salt and pepper

2 big handful of Cheese (you can use vegan cheese)

Herbs: Parsley and thyme
Instructions
1
Turn on the oven at 200°c (390°f)
2
Cook the rice as normal, but omit the last 2-3 minutes.
3
Chop the onions and carrots. Heat some olive oil on a pan over medium heat. Add the red onion, spring onions and carrots. Cook in 5 minutes.
4
Add some butter or oil into the tray, gently turn around, and place the rice in the bottom of the tray. Stir in the onions and carrots. Chop the broccoli in small bouquets and place on top. Mix gently around of you want. Add 1 cup of vegetable stock.
5
Drizzle with salt, pepper, herbs (I used thyme and parsley), paprika, chili, turmeric or what you prefer. Finally cover the tray with a good amount of cheese.
6
Bake in the oven in around 20 minutes until golden on top and you've got a nice and toasty smell. Cool down in a few minutes and serve.
Autumn trays and broccoli recipes:
It's not even October yet and I am already throwing the autumn trays and casseroles at you. I'm actually ready to switch things up. I'm ready for a bit of cozy and slow simmering food.
The rice underneath stays very soft (because of the vegetable stock) and creamy while the cheese on top browns. Be sure to add a good amount of cheese. The corners of the dish will form an insanely delicious, cheesy crust too. If you prefer not the vegetarian way, simply add some fish or chicken to the dish. But I promise it's truly just as delicious without, but do what works best for you and your family.
Lately broccoli (anything) has been my favorite. Yesterday I shared this broccoli salad recipe. Kind of a summer recipes with feta, cranberries and all the colors. But my other favorite? These fried broccoli pieces. And then they are vegan too! If you have any delicious (and maybe different) broccoli recipes, just share them with me below or tag me on Instagram. Would love to get more inspiration.
How I make the perfect oven baked rice tray:
It all starts and ends in one pot. It doesn't need to be more complicated than that. Of course you'll need to cook the rice first. I haven't tried to stir them and add them directly into the tray. But if you do that (no cooking first), then let me know how it works. I think I would go for 25 – 30 minutes in the oven then. You can easily omit the cheese for a healthier option. You can also use cheddar cheese instead (for not vegan version). It's a very easy, recipe to make during the week and you can use all leftover vegetables and ingredients. I actually just used what was left in my kitchen. No strict rules here!
Anyway, I started with the basics. I cooked the rice and stopped maybe 2-3 minutes before I normally would. I cooked the red onion + spring onion with some olive oil on the pan, added the small pieces of carrots for a crispy-onion taste. Then I added a touch of butter into the tray. I added the cooked rice in the bottom, then the broccoli bouquets, the onions + carrots from the pan. Then I added 1 cup of vegetable stock, 1 tablespoon of olive oil, a little salt & pepper, parsley and thyme. Cover with your favorite cheese.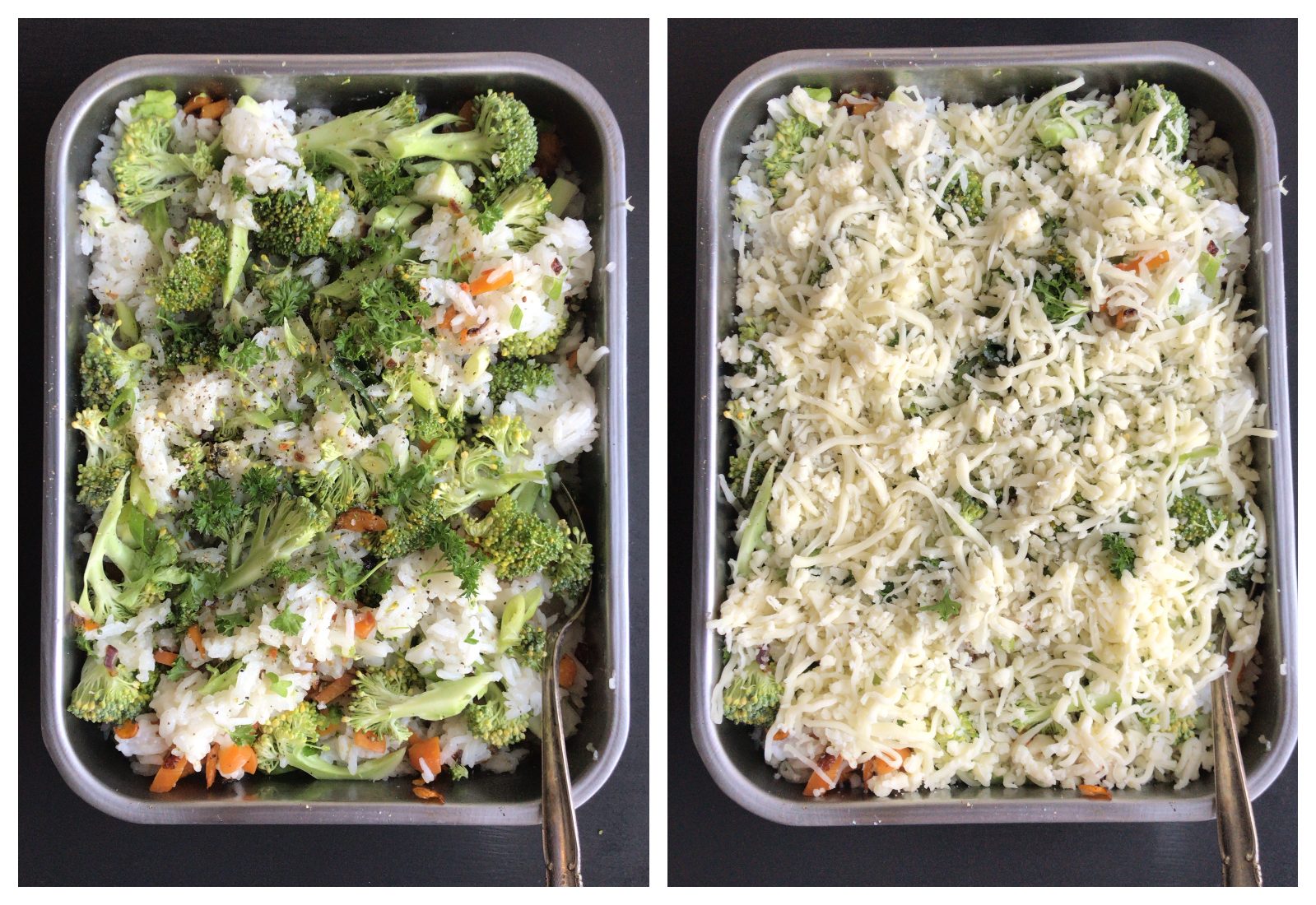 After you've topped with your favorite cheese (cheddar cheese would also be good), put the oven baked rice tray in the oven and cook in 20 minutes until you've got a nice toasty smell going. Bake until the cheese is melty and gets a golden color. Cool down on the kitchen table and add some lemon zest for a pop of freshness. Finish with fresh herbs and then dinner is served. Simple and delicious.