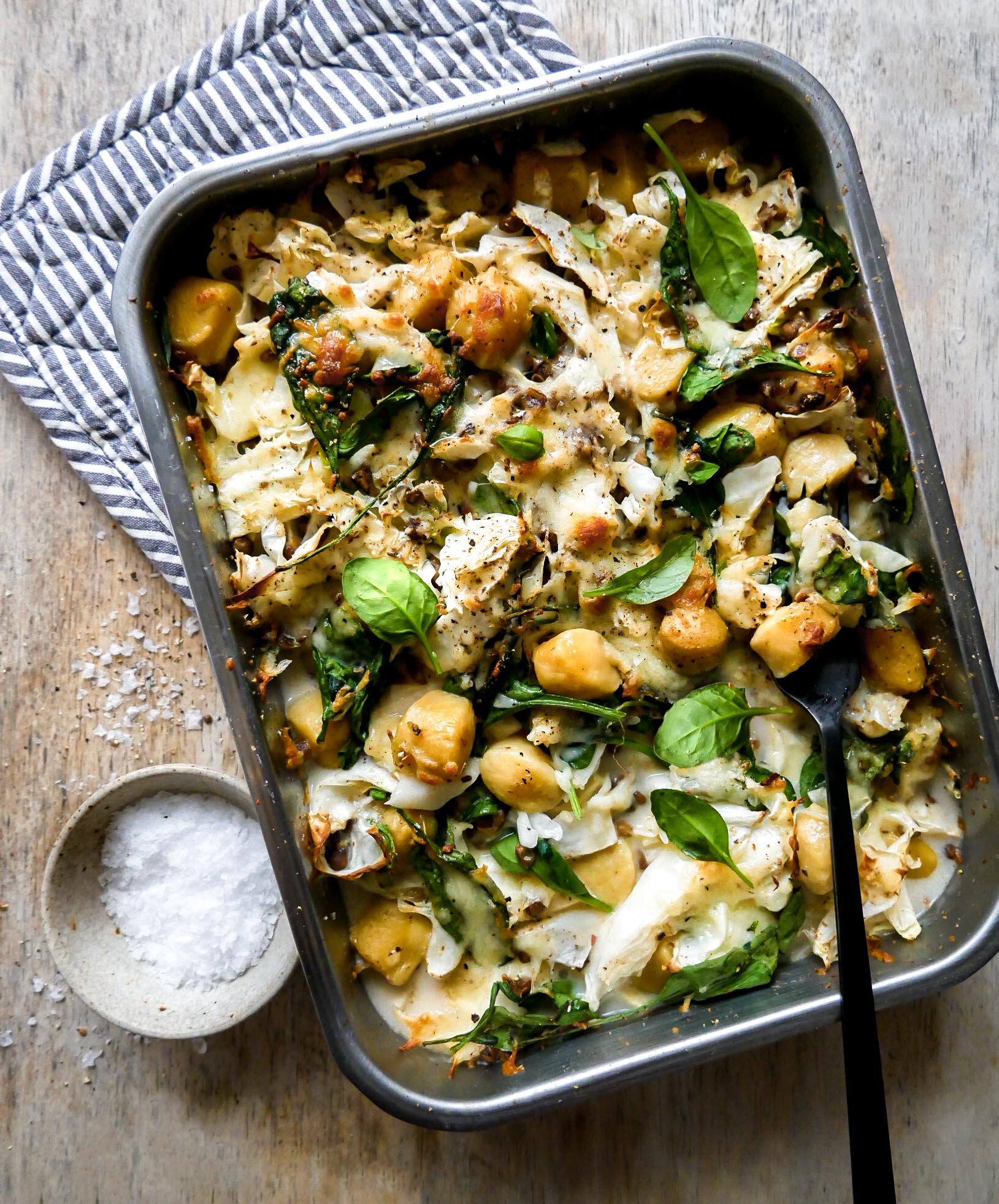 One-Tray Vegan Gnocchi. Started this new year with the easiest and most delicious vegan tray ready in only 30 minutes. Not last time I'm making this, and I'm actually working on more of these easy one-tray and one-pot vegan recipes!
This One Tray Italian Gnocchi (Pasta Bake) is the ultimate cold weather comfort food – in my opinion. Right next to soups and winter stews. This is kind of a healthy One-Tray filled with all the vegetables you can imagine.
Next with the addition of pasta, a creamy white sauce, and melty vegan cheese (you can skip this part if you don't want any cheese in this).
I think the secret to this one-pot pasta is the nutmeg! It brings so much flavour to the dish and I love the taste of nutmeg. I add it to almost every one-tray dish I can think of – baked pastas, lasagna, moussaka etc.
You can make this gnocchi dish any night of the week. It's easy to get rid of your leftover vegetables and it's finish only after 25 min. You can also make this recipe for your next dinner party. Every last bite is delicious.. And I think that everyone loves a GOOD cheesy baked gnocchi bite. And especially when healthy and tasty vegetables like cabbage are involved.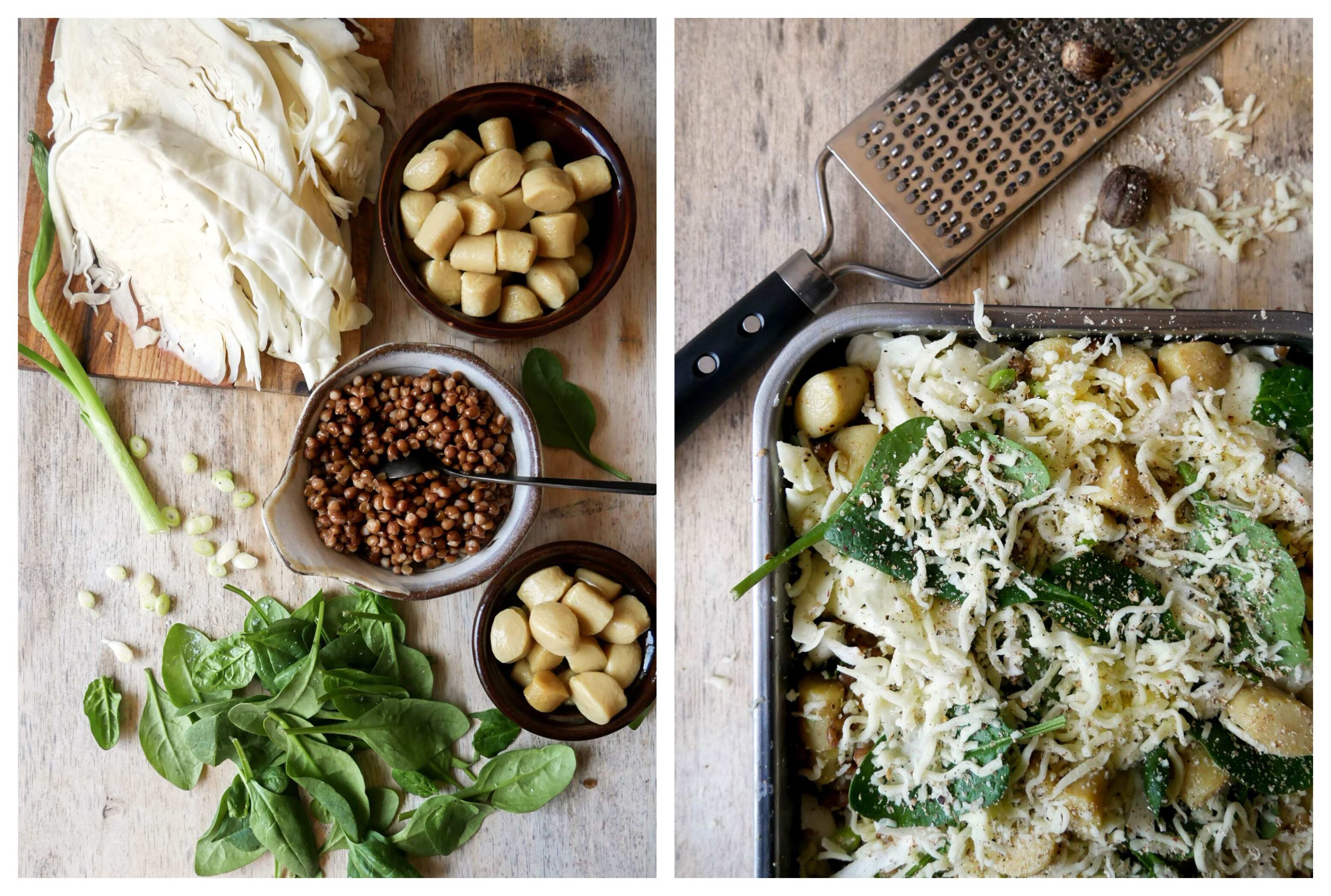 I hope you'll like this tray – and it will be your go-to here in the cold monts – and other times throughout the year too!
Get this One-Tray Vegan Gnocchi recipe here – and please remember to add the nutmeg, it's addictingly good ↑
» Try also: Vegan oven baked tray with rice and vegetables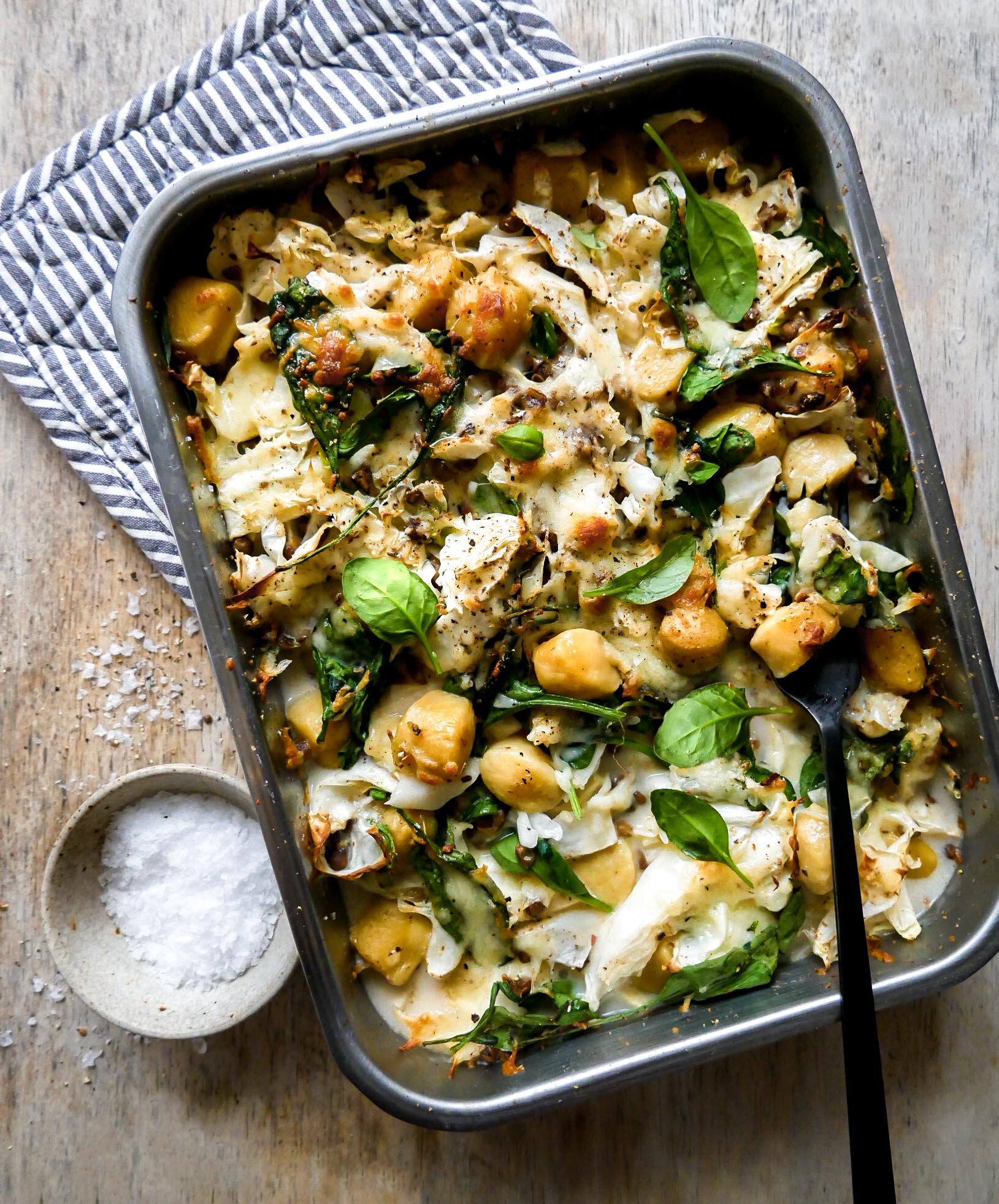 Print Recipe
One-Tray Vegan Gnocchi
This One-Tray Vegan Gnocchi recipe is full of italien gnocchi pieces, cabbage, nutmeg and vegan cheese. Recipe here - ready in 30 minutes.
Ingredients
400g cabbage

1 cup of lentils

350g vegan ghocchi

Handful of spinach

2 tablespoon of spring onions, chopped

1,5 cup vegan cream or thick almond milk

1/2 nutmeg, finely chopped

2 cups of vegan cheese

Salt and pepper
Instructions
1
Add some butter or oil into the tray, gently turn around.
2
Cook (or use precooked) lentils and drain the water. Chop cabbage and spring onions in small slices.
3
In the tray add cabbage, lentils, gnocchi, spinach, spring onions, vegan cream or thick milk, drizzle with finely chopped nutmeg, vegan cheese, salt and pepper. Mix around with a spoon.
4
Bake in the oven at 200c (390f) in 25 min.
If you're not cooking vegan, you can add traditional cheese as well but I used the vegan option – which works perfectly. It gets melty and tastes so good – just like the most traditional cheese types.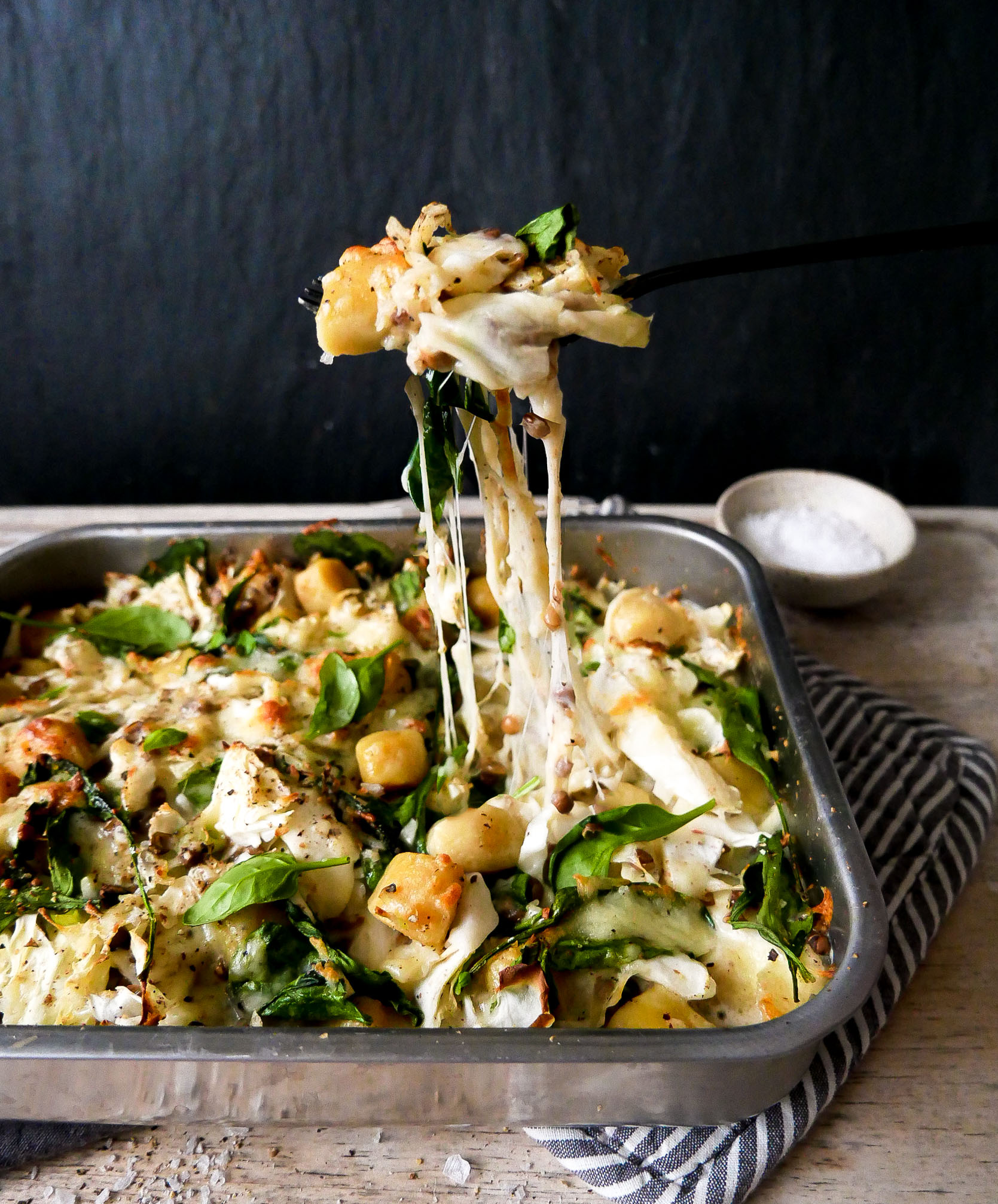 How to make the tray:
Add some butter or oil into the tray, gently turn around. Add chopped cabbage at the bottom and add the vegan gnocchi on top along with chopped spring onions.
Cook (or use precooked) lentils and drain the lentils. Add in the tray too.
Wash the spinach and add a handfull on top.
Pour over the thick milk (or vegan cream) along with finely chopped nutmeg, vegan cheese, salt and pepper. Mix gently around with a spoon.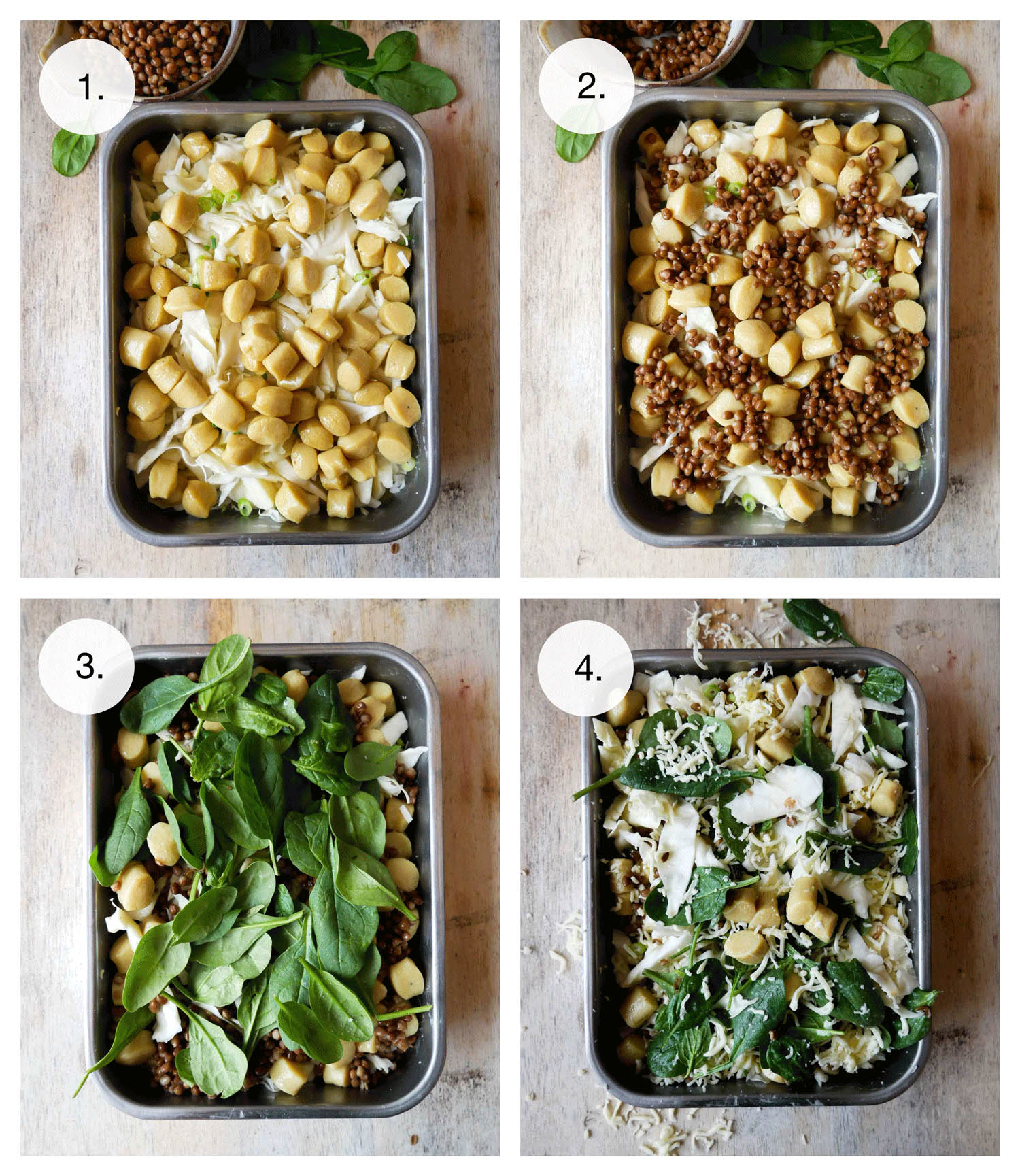 Best thing about Vegan One-Tray recipes:
The best thing about One-Tray or One-Pot recipes is that everything starts in one pot, and ends in the very same pot! So easy and addictingly good. I love to make these one pot recipes because you can make them in so many variations, you can add all flavors and you can use any leftover vegetables! If you use chickpeas, lentils or similar of course you'll need to cook these first or use precooked ones. But all vegetables can be added directly into the tray and baked in the oven. No need to precook these!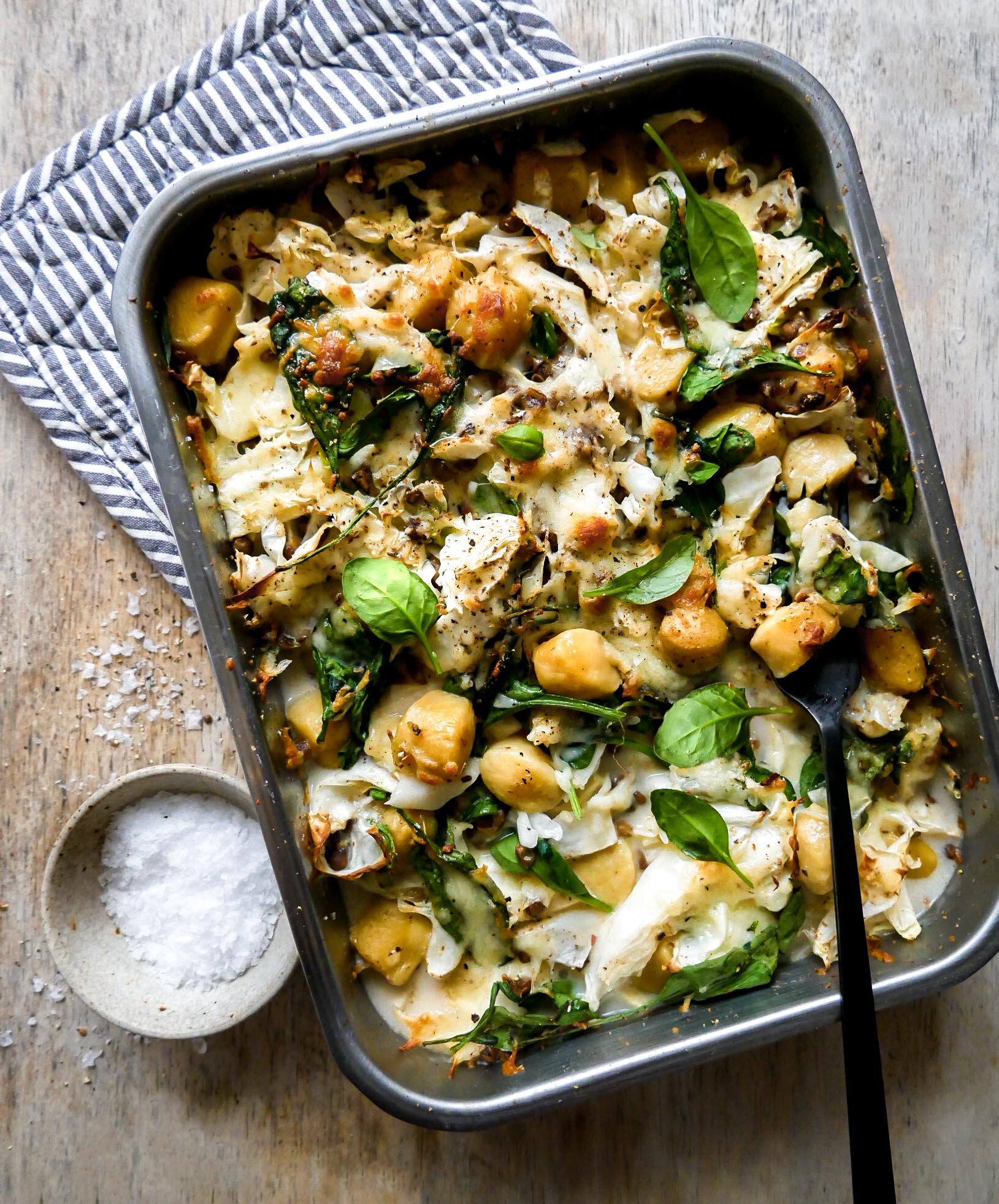 Use Vegan gnocchi, rice, pasta or similar:
If you can't find vegan gnocchi in your local supermarket, don't stress out. The recipe will be totally unchanged even though you're using rice, pasta, gnocchi or other favorites. If you're using rice then cook the rice as normal, but omit the last 2-3 minutes. Then add into the tray and continue this recipe with the cabbage, nutmeg etc.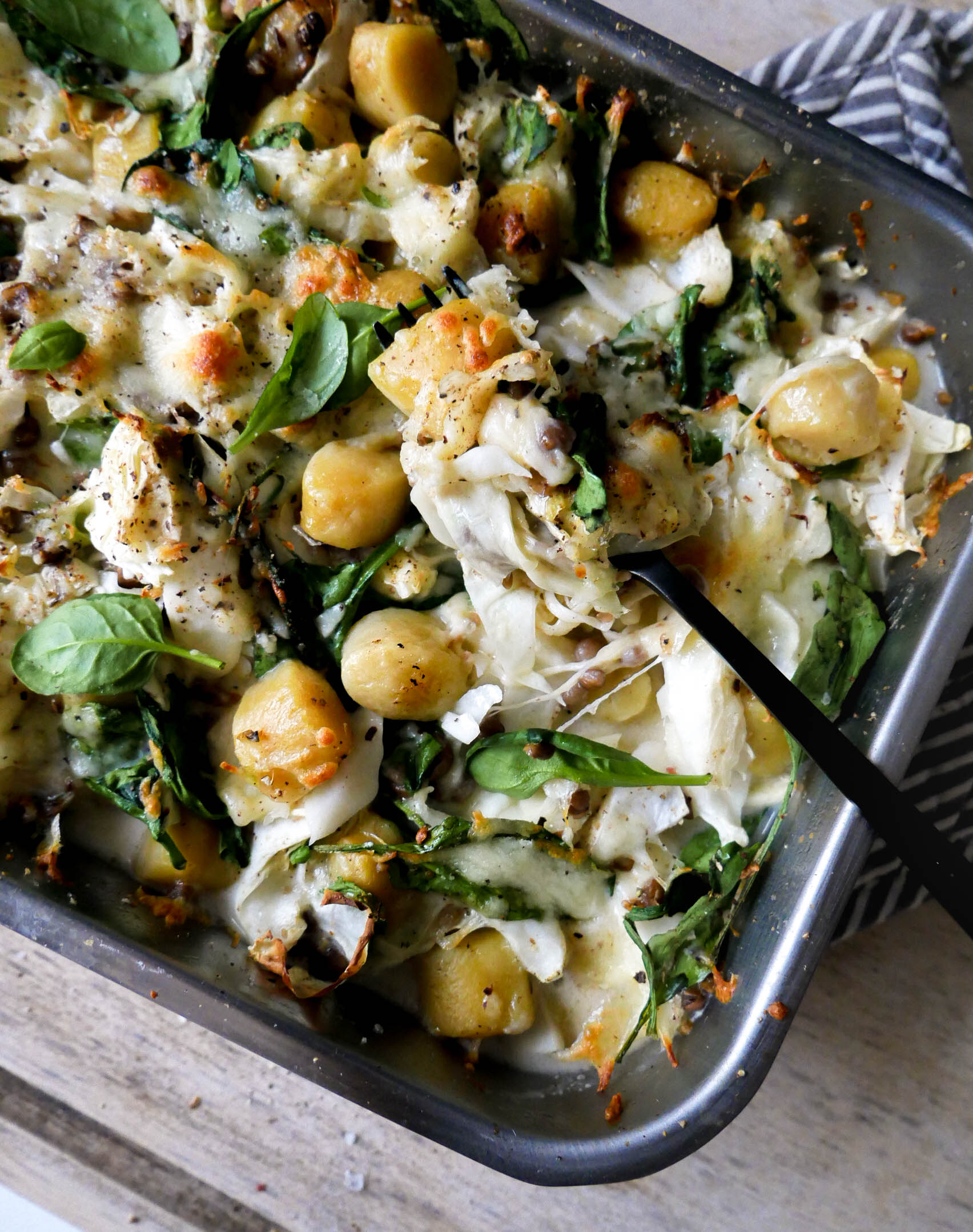 If you're cooking with pasta you'll need to precook them too before adding in the oven. Just to make sure you'll get the a soft and tender taste. Try also to experiment with Wholemeal pasta – which contains almost twice as much fibre as white traditional pasta.
If you're making this recipe, don't forget to share your photos and tag me on Instagram: @Micadeli_
Did you like this recipe? Rate it here ↓